PULLING TEETH – PHILLIP TOMASSO    
Where are you from?
I am born and raised in Rochester, NY.
Could you tell the readers a little bit about yourself?
I spent 19 years working for the Eastman Kodak Company. The last ten in the legal department, working as an employment law paralegal. Due to heavy layoffs, I found myself jobless in 2008. Fortunately, I landed a job with the City of Rochester, with the Emergency Communications Department as a Fire / EMS Dispatcher for 911. Divorced for ten years, I have three amazing kids. (I call them kids. They are quite grown up now). I play guitar, and sing (but not very well at all)!
Tell us your latest news?
I am always working out new ideas. I have written in nearly every genre. Currently, I am working on a crime series. Gang related. Told from the point of view of Sean Geary, a gang member.
What book are you reading now?
At this very moment, I am reading through Ace Atkins' Quinn Colson series. Looking forward to starting in on Ted Bell's books, and Steve Berry's, as well.
Who are some of your favourite authors?
There are just so many. I hate to leave any out. Walter Mosley, if I had to pick just one, might be it.
What books have most influenced your life most?
For me it all started with S.E. Hinton's THE OUTSIDERS. I hated reading. Did all I could NOT to read.In seventh
grade we were assigned her books, and THE OUTSIDERS was first. I loved it. Learned she was sixteen when she wrote it. Next I read RUMBLE FISH, THAT WAS THEN THIS IS NOW, and TEX. At that point, I knew I wanted to become a writer.
What is your least favorite part of the publishing / writing process?
Least? Re-writes, and editing. Suppose I am not alone there. The initial telling of the story is so simple compared to when one has to roll up the sleeves and get down to it. It isn't that it is the least favorite part of the process, as much as it is perhaps the most challenging.
What inspired you to write your first book?
I was always a storyteller. It was S.E. Hinton who convinced me I could do this, sell a book. It was back in 1998 when I finished my first novel. And in February 2000, my dream had come true. MIND PLAY was released by a small California press, Dry Bones.
Have you ever hated something you wrote?
All the time!
What is the biggest lie you've ever told? 
It wasn't me.  
Can you share a little of your current Sinister Grin Press work?
I have a fantasy series with Sinister Grin. The Severed Empire. The newest book, ASSASSIN'S PROMISE, is something of a prequel to the three already released. It is the story of a young Blodwyn, and how he came to be the man he is the trilogy.
How did you come up with the title?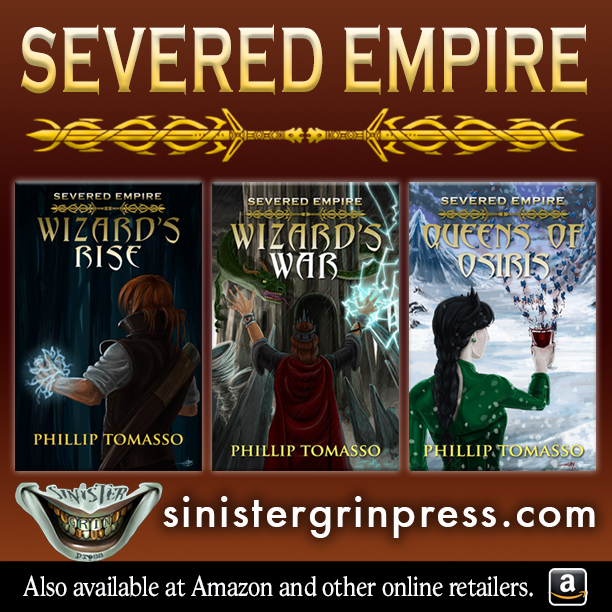 Blodwyn is kind of my favorite character in the Severed Empire. He is something of a teacher, but still pretty badass with a staff. The title made sense once I had the past sketched out. He was an assassin, and he made a promise. LOL.
Do you have any strange writing habits (like standing on your head or writing naked while eating peanut butter)?
I write the most between midnight and eight am. I am most creative during those dark hours. I like to listen to music when I write. A variety of artists. I also keep my guitar close by. When I need a break from writing, I strum a tune or two, and then get back at it.
What is your biggest fear?
My biggest fear is spiders. And anything blue. I don't eat or drink anything blue.
Haven't since I was a kid.
What do you want your tombstone to say?
God. I never thought about it. Feel like it should be witty, or smart ass-ish. Right now, I have nothing.
If you had a superpower, what would it be?
To fly. Always admired Superman –not for his strength, but for his ability to fly. I dream of it often, flying.
What secret talents do you have?                                               
Now, if I told you, they'd no longer be a secret.
If you were an animal in a zoo, what would you be?
A sad thought. If I were an animal, the last place I'd want to be is in a zoo. So with captivity hanging in the balance of the question, I don't suppose the type of animal matters.
What do you like to do when you're not writing?
I read. A lot. Write reviews for the books I've read. I watch movies. A ton of movies. I am a Netflix/Hulu addict. I play guitar. However, nothing is better than days I spend with my kids.
What's your favourite food?
Pizza. Hands down. Pizza. There are many close runner-ups (lobster, shrimp, tacos), but if I had to pick one food it is pizza.
Who would be on the soundtrack to your life story?
Jonny Lang.
Tell us a dirty little secret?
Not sure how much of a secret it is, but I am an emotional person. Movies make me cry. Pixar/Disney films get me all the time. In Wreck It Ralph, when Ralph busts up Vanellope's race car … Lost it. My daughter, and her friend were laughing at me in the theater.
What advice would you give to your younger self?
Don't marry the same woman. LOL.
What was the last great book you read, and what was the last book that disappointed you?
METALTOWN by Kristen Simmons blew me away. On my book review page, I called it the best book of 2016. John Grisham's THE BROKER was a big, big letdown. Unfortunately, he is very hot and cold, hit and miss. I still read his books, I just always try to remain optimistically hopeful is all.
What is your all-time favourite horror novel, and film?
Favorite horror novel would be a tossup between Pet Sematary, and 'Salem's Lot.
Horror movie? I love the Alien series. I am going to stick with that. The Alien series.
If you could erase one horror cliché what would it be?
Sprained ankle?
If you could kill off any character from any other book who would you chose and how would they die?
Bella Swan? I am not sure if it is Bella, because I enjoyed the Twilight books, or Kristen Stewart. One or the other. Take your pick.
What do you think is the biggest problem facing horror fiction right now?
Gore and shock, just for the gore and shock of it. Horror, to me, should frighten, and be chilling, and give you nightmares. A solid ghost story, a wonderful twist, or something unthinkable. I find a lot of horror novels today just lack that –and for that reason, I have shied away from reading much in the genre. Haven't found anyone truly worthy of reading.
What piece of your own work are you most proud of?
My young adult novel, SOUNDS OF SILENCE, is by far my favorite work. It is the story of a 12 year old who contracts Meningitis and becomes deaf. He fears he will never become a professional baseball player. Enrolling in a school for the deaf, he learns about –not giving up on his dreams, but about reshaping them.
What's the one question you wish you would get asked but never do?  And what would be the answer?
Phil, how is it that a modestly successful, and mildly good looking guy like yourself is still single?
I haven't a clue. But thanks for asking!
Website http://www.philliptomasso.com/
Facebook http://www.facebook.com/authorphilliptomasso
Twitter http://www.twitter.com/P_Tomasso
Amazon Author Page http://author.to/philliptomasso
Goodreads http://www.goodreads.com/author/show/165989.Phillip_Tomasso_III
Begin your journey into Severed Empire