We are excited to announce that Dream Woods by Patrick Lacey comes out on October 1, 2016 in digital and paperback formats! The e-book can be pre-ordered now on Amazon! The cover art is by graphic artist Kelly Martin with work from graphic artist Scott Carpenter on the wrap around book design. It's been getting rave cheers on social media for awhile now, mostly due to its cool carnival-like feel and the mysterious bear. You can now read all about Patrick's thoughts for the cover below. We hope you enjoy both the story behind the cover as well as the story itself! We look forward to your thoughts!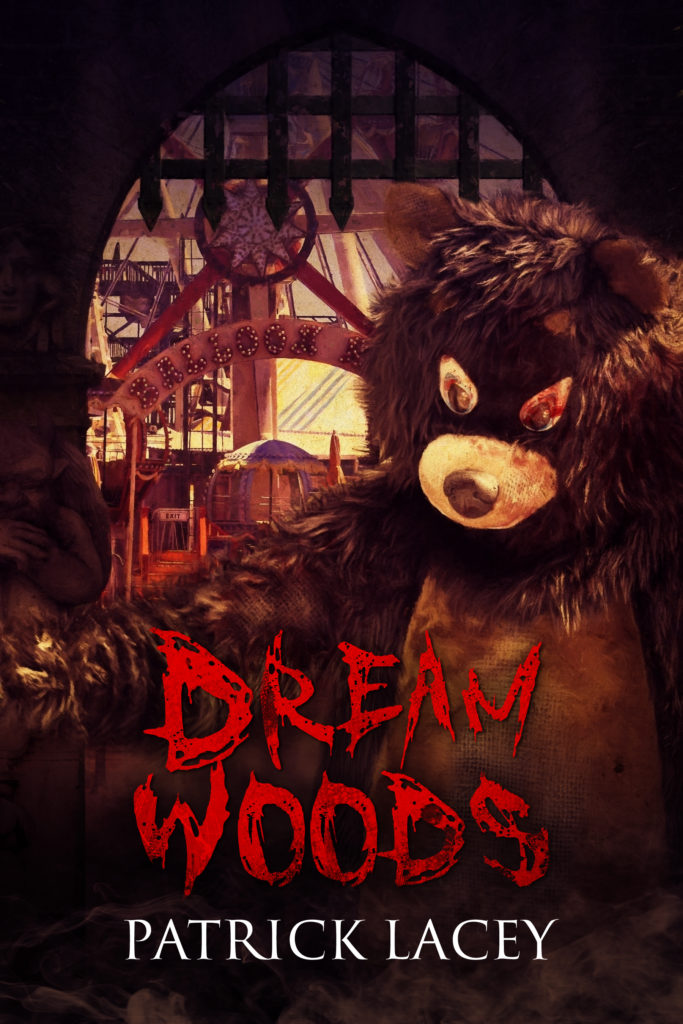 How did you envision your cover and why?
I requested that it be three-dimensional, holographic, and similar to that of a pop-up book. Kidding. I wanted to include Dream Woods but also wanted to keep it mysterious. There's a lot you could easily give away by showing too many of what we'll call the "attractions" of the park.
Did it turn out like you pictured?
Better. Way better. I thought it might be tough having a bear on the cover. That's an easy thing to make cartoonish but as luck would have it, Kelly Martin did a great job and the thing, if I may say so myself, is downright creepy. Not to mention, I've gotten more praise for this cover than any of my previous books.
Does it relate to your book content and how?
It would appear that way. It looks like some sort of evil castle inside of an evil amusement that houses something equally evil, doesn't it? Wouldn't want to give too much away…
Who is that pesky little bear in the cover art?
I'm glad someone finally asked! That would be Sebastian, the Dream Woods mascot. You'll get to learn all about him in the book and let me tell you: it ain't pretty. This isn't your average mascot.
What was your first impression of your cover?
I loved it with a capital L and a capital O, etc. Kelly captured exactly what I'd asked for and I had zero notes other than high praise.
How do you hope prospective readers will respond to it?
I can tell you that I've had plenty of people messaging me, letting me know they're on board even before they'd heard the synopsis of the book. Probably a testament to how good the image came out but also maybe a sign that mascot bears are making a big comeback in recent times.
Dream Woods, Synopsis
Follow your screams…
When Vince Carter takes a shortcut to work, he notices a billboard that nearly sends him into an oncoming van.
The ad is for Dream Woods, New England's answer to Disney World. It closed decades ago, but now that it's back in business, Vince is eager to take his whole family, hoping the magic he remembers will save his failing marriage.
His wife, Audra, isn't so sure. She's heard the rumors of why the place closed. Murder. Sacrifice. Torture. But those are just urban legends. Surely there's nothing evil about a family tourist attraction.
The Carters are about to discover that the park's employees aren't concerned with their guests' enjoyment. They're interested in something else. Something much more sinister.
Welcome to Scream Woods!
PRE-ORDER/ORDER LINK
Get yours delivered on Oct. 1 by clicking HERE.
Patrick Lacey, Biography
Patrick Lacey was born and raised in a haunted house. He lives in Massachusetts with his wife, his mustached cat, his Pomeranian, and his muse, who is likely trying to kill him. Follow him on Twitter (@patlacey) and find him on Facebook.
Sinister Grin Press
Find more information on Sinister Grin Press at www.sinistergrinpress.com. We have "horror that'll carve a smile on your face."